Parkersburg Choral Society

Our Director - Luke Zyla

Luke was appointed music director and conductor of the Parkersburg Choral Society in 1997. He previously appeared as guest conductor with the group in 1994 and 1995 for concerts presented at the Smoot Theater and was also a member of the tenor section.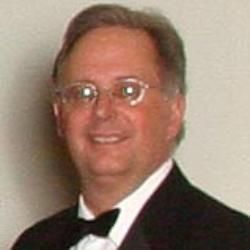 Luke holds bachelors and masters degrees from West Virginia University where he studied conducting with Donald Wilcox, Reginald Goecke, Joseph Goltz, and Donald Portnoy. He has studied choral conducting at WVU and has attended choral workshops at Cleveland State and Concordia College with Rene Clausen at the Rene Clausen Choral School. Mr. Zyla began his teaching career in 1978 in the Jackson County Schools and is now retired from teaching instrumental music at Parkersburg South High School. He was honored as West Virginia Bandmaster of the Year in 1994 and was inducted into the Phi Beta Mu International Bandmaster Fraternity in 1997. He resides in Parkersburg with his wife Melani and has two grown sons, Marc and Paul.
Our Accompanist - David Nuss
David was born in Kansas City, Missouri and lived his younger years in South Dakota and North Dakota. As a young musician he played piano,organ, trumpet and horn in church, school and community settings, as well as singing in church and school choirs. He graduated from Sioux Falls College (now renamed The University of Sioux Falls) with a B.A, in music education. He also studied composition at Indiana University with Bernhard Heiden, Thomas Beversdorf, and Juan Orrego-Salas. Since moving to Ohio, David has continued playing piano and organ here in the Mid Ohio Valley. He is a member of the American Guild of Organists (AGO),Southeast Ohio Chapter.